Jay Adkisson to speak at Arizona Bar's First Anti-SLAPP Symposium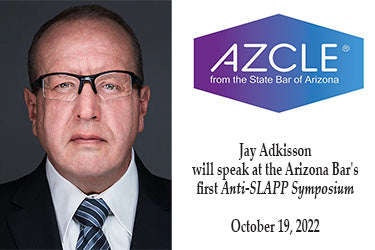 Jay Adkisson will speak at the Arizona Bar's First Anti-SLAPP Symposium on October 19, 2022.
This program will cover:
-        What constitutes protected speech and conduct
-        Overview of the Anti-SLAPP motion
-        Anti-SLAPP motion practice
-        Ethical considerations and sanctions
-        Introduction to the Uniform Public Expression Protection Act
---
---
Also in Speeches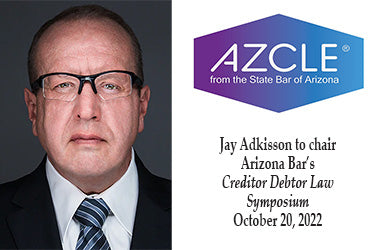 Jay Adkisson will chair the Arizona Bar's Annual Creditor-Debtor Law Symposium on Oct. 20, 2022
The Second Arizona Creditors Rights Symposium offers a wealth of knowledge for bankruptcy and creditor rights practitioners, including an analysis of how to attack complex asset protection plans in bankruptcy, an update of bankruptcy law affecting creditors, fraudulent transfers and charging orders in bankruptcy, an examination of Arizona state law provisions for judgment enforcement, domestic and international debtor asset investigations, and insights into how and why debtors structure their asset protection plans. A "must attend" event for the serious bankruptcy or judgment enforcement practitioner.